New Research Reveals Major Discrepancies in Utah History by Phillip B Gottfredson

I got acquainted with a little known Tribe no one ever talked about... the Timpanogos, who also live on the Uintah Valley Reservation in Utah, same as the Northern Utes do, and their story blew me away. Why? It doesn't matter they are not yet a federally recognized Tribe, they provided me with definitive proof they are the living descendants of Chiefs Sanpitch, Wakara, Arropeen, Tabby, Ammon, Sowiette, Grospeen and Antongua 'Black Hawk' who was the son of Sanpitch, and other legendary leaders in the Black Hawk War! Their lineage documented by birth and marriage records, death certificates, Indian Agency records, treaties, and more historic records going back to 1765. Information you won't find in mainstream Mormon accounts. Finally! Finally after years of research I found the truth! Everything fell into place. (See Origins of Timpanogos and Ute Tribes)

The Timpanogos are a band of the Snake-Shoshoni and are distinctly different from the Northern Utes of Utah in language, customs, and origin. The Timpanogos are indigenous to Utah territory. Over the past two years I have been living with the Timpanogos pouring over documents and listening to their amazing stories and teachings. And so it is with their permission I have updated this website to a much truer and balanced version of the Mormon's Black Hawk War than before, adding valuable information from the Timpanogos Nation, whom I have come to love and respect as my own because of their compassion, integrity and honesty. (Visit the Timpanogos Nation website)

The earliest record I have found, so far, that refers to the Timpanogos in Utah begins with the Spanish explorer Juan Rivera in 1765. Rivera preceded explorers Dominguez and Escalante's expedition into Utah, and describes having come in contact with aboriginal peoples "the bearded ones" who were Snake-Shoshoni who called themselves "Timpanogostzis," an Aztecan-Shoshonian word meaning People of the Rock water carriers (referring to rock salt), whose leader was Turunianchi.

Turunianchi had a son named Moonch. Moonch was the father of Sanpitch, Wakara, Arropeen, Tabby, Ammon, Sowiette, Sanpitch, and Grospeen, who occupied a land that is now known as Utah. Dominguez named Mount Timpanogos, Timpanogos River (Provo River), Timpanogos Lake (Great Salt Lake) and Timpanogos Valley (Utah Valley) in honor of the Timpanogostzis.

Then came the year of 1824, when a French explorer Etienne Provost entered what is now Utah and reported having come in contact with a Snake-Shoshone Nation (Timpanogos) living along the Timpanogos River (Provo River) and Timpanogos Lake. Provo City derives it's name from this early explorer Provost.

Today the Timpanogos Nation consists of about 1000 members who live on the Uintah Valley Reservation in the north-east section of Utah near the city of Roosevelt. (More information see Home Page)

No Dakota Access Pipline!

Over the past few months I have been following disturbing events unfold in South Dakota regarding a major oil pipeline referred to as the Dakota Access Pipeline or DAPL. It is said that this pipeline would carry an estimated 500 million gallons of fracked oil over 1200 miles from the border of Canada to Patoka, Illinois. Because the pipeline is a direct threat to the Missouri River, should it break, and and some 14 million people down stream whose very lives depend on the Missouri, the pipeline also threatens the only source of water for the Lakota Sioux Tribe. The Sioux Tribe launched peaceful protests to stop the pipeline from crossing treaty lands, and this protest amazingly has got world-wide attention. Over 280 Native Tribes across the US joined in the protest which in itself is a historical moment in our time that so many Tribes have come together, many who have been up to now enemies to one another. The protest has gone all the way to Washington where over the past couple days tens of thousands of Native peoples marched.

It should be noted there have been over 280 oil pipelines rupture polluting the environment and our precious water in just the past year that have gone by unreported.

As I have stated the protests have been non-volent, that is until Armed troops in armored vehicles were called in by South Dakota's Governor to turn the Native peoples off the land, and put an end to the protests spending millions of dollars to do so. The fight is not over!

Also disturbing to me is that the news media has been for the most part silent on this. Even as the protest has brought to Standing Rock movie stars, political heavy-weights, even the United Nations to investigate and witness firsthand the blatant violations of human rights.

I could go on writing a hundred pages on this, but instead I invite you to join my Group on Facebook and get all the facts. Join The Black Hawk War; Utah's Forgotten Tragedy Group on Facebook

I have also setup a Facebook page regarding the Utah Black Hawk War where you can comment and learn some interesting stories and facts regarding other Tribes across the country. Comments or questions visit us on Facebook

An Open Letter From Phillip B Gottfredson

Aug 22, 2016

Greetings to all my readers;

Many of you know I have been researching the Black Hawk War of Utah for over a decade now. And much of what I have found I have published here on our website. And what I feel I should address in this letter is the number of times I have made changes to what I have written, sometimes daily. And last year I made a major change when I moved from the Ute's being the Indian tribe in the Black Hawk War to it being the Timpanogos Nation. Which I am certain many of my readers began to question my credibility, while many others congradualted me. And so I offer a long overdue explanation I hope will at least explain what's going on.

To begin with the history of Utah when it comes to the Indian peoples and the Mormons is very confusing even for the most educated, and for the novice it's impossible to understand. For example, we see there being so many different chiefs and sub chiefs, and all the different bands and tribes, while in one account Walkara is a Ute, in another he's Timpanogos, there's is no end to the contradictions and misinterpretations. And quite frankly I got to a point where nothing made any sense to me anymore as I struggled to get to the truth. The more I read and researched archives the greater my confusion became, and the more questions I had. Then when I began to speak with the Ute tribe and people therein, things got even worse because even they contradicted themselves and many told me they simply don't know their history. The reasons for their confusion comes as no surprise as they were forced into the public school system that taught them only the white-man's version. In other words their history was kept from them. At least that was what I was told. Since I have found out that those Utes who do understand their history for political reasons aren't saying anything.

Still I have persisted seeing even a greater need to find the truth both for Indian and non-Indian alike. The greatest breakthrough came when I met Mary Meyer Chief Executive of the Timpanogos Nation. Mary had been following my website and contacted me. We met at a mutual friends home in Salt Lake. Mary had a stack of documents with her that day, and by the following day she had convinced me that it was the Timpanogos Nation I should be researching regarding the Black Hawk War, not the Ute. When Mary proved she was the direct descendent of Arropeen who was the brother of Walkara, Sowiette, Sanpitch, Ammon, Tobia (Tabby), and Grospeen Mary had my full attention. Unlike the Ute Tribe, Mary could explain who the descendents of these powerful leaders are. Clearly the Timpanogos Nation know their history well.

So, I realize my publications have been confusing and constantly changing especially over the past year or so. To that all I can say is that this website is a work in progress. I apologize for the inconvenience and confusion, but take consolation that the material as it is now published is the most accurate thus far. And now that I have finally found the truth I have been asked to hold off publishing everything I know because of political reasons. Because I respect the Tribes I work with I agreed to hold off. In the near future I will be publishing in detail all aspects of the Black Hawk War both past and present when the time is right.

Thank you everyone for your patience and loyalty. The best is yet to come.

Phillip B Gottfredson

Dedication of the Circleville Massacre Memorial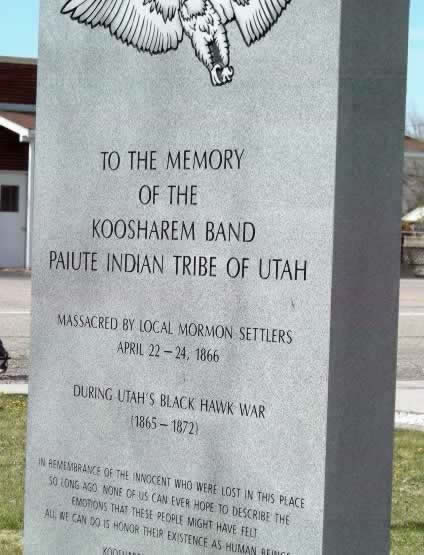 Dedication of the Circleville Massacre Memorial I would describe as being a fair and accurate depiction of the tragic event of 1866 when 27 Paiute Koosharem men women and children were brutally murdered. Approximately 25 members of the Paiute tribe were present at the dedication along with some 40 or so people comprised of historians from the church of Jesus Christ of Latter-Day Saints, along with towns folk and the press. I was there along with Mary Meyer Chief Executive of the Timpanogos Nation, and a direct descendents of Chiefs Arropeen, Walkara, and Tabby. The ceremony lasted about an hour. And following the ceremony there was talk among the Paiute and historians of locating the burial place of the Massacre victims and a possible repatriation of their remains to bring closure to those whose ancestors were involved in the atrocity. Please click here for the whole story.
Renovations Continue with Website
Black Hawk Productions Website continues to upgrade and update with fresh material and features. You will notice we have removed our menu, and in it's place we have updated and upgraded our Black Hawk War Timeline. It makes better sense to use the Timeline as our menu. Not only does the Timeline give us a better overview of the Black Hawk War at a glance, we now can link that information to supporting documents and information respectfully. The Timeline is loaded with data which will be updated frequently as our research continues deeper into the Black Hawk War history. We hope you will find this method more convenient and useful.

There is a noticeable difference to our content also. We have corrected our history based upon a plethora of documentation we received from the Timpanogos Nation Mary Meyer which has been a huge revelation pertaining to the Black Hawk War. Because Utah's history has been written from a one-sided point-of-view, and historians have never consulted with the Native Peoples, so the confusion it has caused researchers is daunting to say the least. The Timpanogos people have long been mistakenly to mean "Ute" when in fact the Ute Indians lived in Colorado during the War, and it was not until 1880 the Colorado Utes were forced to cohabition with the Timpanogos in Utah. So it created a tremendous amount of confusion for us as we ran into many contradictions over the years. Now that we better understand that the Timpanogos are a separate peoples from the Ute everything falls into place. And we offer our sincere apologies for any inconvenience we may have caused our readers. But, we have from the beginning made it our quest to publish the truth even if that means changing our data as we move forward. And that's what makes Black Hawk Productions Website credible, because we are constantly challenging Utah's history teasing out the truth.

Indian History Researcher Phillip B Gottfredson states, "I am more confidant than ever my reseach is accurate as it can be based upon the documentation I have found."

Fresh new stories has been added to our website recently and there is much more to come as we continue to expand our reseach.

We welcome any and all input from our readers. The following is a letter we just recieved:

Good Afternoon Mr. Gottfredson,

I found your website 'Blackhawk War: Utah's Forgotten Tragedy' while doing some research for a class that I am attending online at Oregon State University (Ecosystem Science of Pacific Northwest Indians). I grew up at the foot of Mount Timpanogos in Pleasant Grove Utah, and later moved to southern Utah to a town called La Verkin. I moved away at the age of 18 leaving behind much of my Utah roots. I have recently picked up on the trail of my heritage as descendant of many of the early Mormon settlers in the Wasatch area.

My current studies at OSU have drawn my interest back into family history, and 'where I came from'. My bloodline is directly linked to many of the settlers in Sanpete and Utah County, and I know of at least one member of my lineage that belonged to the 'Mormon Militia'. My bloodline is most certainly tied to the atrocious acts perpetrated under the command of Brigham Young in the name of Mormon expansion.

I am writing you to express my deep appreciation for what you have done for the Timpanogos/Shoshone people in bringing their story into the light. I am most certainly a novice when it comes to knowing the background of this proud people, but in briefly researching the material that you have provided, I can immediately see that I support all of the effort that you have dedicated to ensuring that their voice is heard. I very much look forward to learning more about the 'other' story of late 19th century Utah, and I wonder if there is any way I can contribute to the work that you have done so far. Please accept this email as a token of my admiration, and I truly hope that it finds you happy and well.

Thank you.

-Andy Stokes
Phillip B Gottfredson Honored by The Timpanogos Nation
6/5/2015

Following a Sunrise ceremony with the Timpanogos Nation of Utah, Phillip B Gottfredson was honored by the Timpanogos and presented with a Pendleton Blanket and many gifts for his helping them with their history and creating a website for the Tribe. " I have never met a more kind people, their generosity and kindness I will never forget. I am truly grateful to Chief Executive Mary Meyers for helping me understand the history of the Timpanogos, and all those Tribal members for sharing with me their personal stories. I am proud to call the Timpanogos my friends," said a humble Gottfredson.

The celebration continued throughout the day with a delicious bar-b-q and socializing.

"These are a Native peoples of Utah who have suffered the most because of the Black Hawk War in Utah during the 1800's, and sadly they are made to continue to struggle for a decent life, and recognition from the Federal Government. These are the descendents of legendary leaders such as Black Hawk, Sanpitch, Tabby, Arropeen and many more. A people who were forced to give up so much because of early settlers greed for land and riches. But they are still here, and here they will remain determined in their fight for equality and justice" said Mr. Gottfredson.