The Old Peace Treaty Tree
I most sincerely congratulate the people of Ephraim for having preserved the old Peace Treaty tree honoring the friendships that were made a hundred and sixty years ago between Chief Black Hawk and Canute Peterson. It is extraordinary to think about, that a promise made so long ago is still remembered. Thank you Ephraim, and may you always be blessed with beauty and prosper.
Ephraim, Utah
1866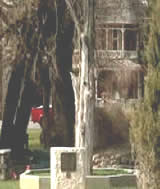 Black Hawk had been wounded while in battle at Gravely Ford near Richfield. He was trying to rescue a fallen warrior when he was shot in the stomach.

In 1866 Canute Peterson paid a visit to the ailing Timpanogos leader Black Hawk who had been shot in the groin while at Gravely Ford, taking gifts of sugar, hams, bread, beads, molasses, tea, coffee, tobacco, flour, medicines and clothing. The Chief was grateful for the presents and a friendship developed, which put a partial end to the hostilities. Five important chiefs called upon Canute Peterson's home and established peace pacts. As they talked, Sarah Peterson prepared a meal of the good things that could be brought from the cellar and pantry. After the meal, Black Hawk and Canute went across the road and smoked the pipe of peace under the old juniper tree, now referred to as the "peace treaty tree." The old Juniper tree still stands on the west bank of the creek. They agreed that they would not fight as long as water continued to run in the creek. A Black Hawk Peace Treaty marker was erected there in 1987. (Ephraim, Utah)

Black Hawk was not a man without humanity and compassion toward others who demonstrated the same toward him. Recently I visited Ephraim, Utah and I was told of an old Juniper tree where Black Hawk and his warriors made a life long commitment to friendship at this tree. The tree stands about 30 feet high next to a small stream.
The Juniper is a sacred tree to the Native people. It's a medicine tree, and more. The symbolism then is powerful. Black Hawk chooses the Juniper to smoke the sacred pipe under and make their peace pacts, being true to their ancient traditions, according to their ancestor's ways, and honoring their friendship and commitment to freedom and peace. Acknowledging their connectedness in Spirit they were making a sacred vow for peace. Does this not demonstrate the humanity, virtues and sacredity in the leader Black Hawk? Just a kind heart felt gesture from this man Peterson, and Black Hawk willingly offers the sacred pipe to honor his kindness. Yet Brigham spent millions in church funds, and beheads 50 people to "teach them a lesson." Perhaps all that was needed was some unconditional kindness and respect.

Not all of the Mormons and Timpanogos were in conflict. I recall another interesting story that Benjamin F. Johnson wrote of his Santiquin Indian friend named Guffick the following: "I saw someone moving in the brush at the foot of the mountains, and thinking it might be Guffick, I started in that direction. Seeing me (Guffick) hurriedly came, clasped me in his arms and wept. I asked him with his family and friends, to come and live with me through the war. I would give my life for his did anyone kill him or his. He said he could not, for if the Mormons did not kill him the Indians would, should he do so. His grief of the war then going appeared extreme, and at parting he again hugged me and wept as before. Such was his integrity to me, and our mutual confidence and love for each other that to but a few would I have entrusted my life sooner than with him."
Elders of my Native friends said this to me: "The message of Indigenous America is connection, relationship, and unity. All people are one. One of the direct, living descendants of Creator." Chief Joseph says, "We have no qualms about color. It has no meaning. It doesn't mean anything. When we are together we are one. Nothing can break it." This is the same message Chief Sitting Bull conveyed when he said, "The heart knows not the color of the skin. This is an ancient traditional teaching. It still lives among our true traditionalists everywhere. The power of forgiveness is greater than hate; love vanquishes condescension and discrimination. That is the power our elders, our true traditionalist hold. They are treasures; they are the most beautiful people on Earth."