Source Material For The Black Hawk War: Utah's Forgotten Tragedy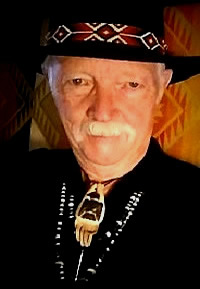 Since 1989 Phillip B Gottfredson has been devoted full-time to researching the Black Hawk War in Utah . Mr. Gottfredson, like his great-grandfather Peter Gottfredson, has lived several years with the Snake Shoshoni Timpanogos Nation, the Western Shoshone, and considerable time living among American Indian people throughout the western United States. Mr. Gottfredson became intimately acquainted with their culture and traditions and was invited to many of their sacred ceremonies and eventually embracing their traditional life ways. He received a Certificate of Recognition from the State of Utah Division of Indian Affairs in appreciation for his advocacy for the Indian peoples of Utah in 2008. In 2015 he was honored by the Timpanogos Nation for his work. 2005 Mr. Gottfredson was commissioned by the Utah State Division of Indian Affairs to make a documentary film of the Black hawk War. The project was Funded in part by Utah State Division of Indian Affairs, the George S. Deloris Dori Eccles Foundation and Private Donors.
Filmmakers were Black Hawk Productions, LLC, Ron Hill Imagery, and Turtle Island Productions.
"I discontinued production of the film when I discovered through my on-going research of the Black Hawk War that there are major contradictions, and inaccuracies in the histories of Utah. For example, historians mistakenly identified the Timpanogos Nation as being Ute Indians. This revelation alone completely changed the accuracy of the film project, and had I continued I would have added to the confusion that already exists in Utah's history, something I was not willing to be a participant in. " - Phillip B Gottfredson June, 2016
Consultants: Historian Will Bagley - Dr. Daniel McCool University of Utah- Historian Robert Carter - Filmmaker Larry Cesspooch Ute Tribe - Venita Taveapont Director of Indian Language Program Ute Tribe (deceased)- Loya Arrum Ute Tribe (deceased) - Descendents of Timpanogos Chiefs Walkara, Sowiette, Arropean, Sanpitch, Ammon, Tobia (Tabby), and Grospeen (all brothers), and Black Hawk. - Members of the Timpanogos Nation Uinta Valley Reservation - National Forest Service Archeologist Charmain Thompson.
Source Material:
Indian Depredations in Utah by Peter Gottfredson, Utah's Black Hawk War John Alton Peterson, American Indian Prophecies Kurt Kaltreider, PhD., A History of Utah's American Indians Edited by Forest Cuch, Massacre at Mountain Meadows by Will Bagley, Book Of The Hopi by Frank Waters, Crazy Horse by Mari Sandoz, Writings of John D. Lee by Samuel Nyal Henrie, Life Among The Apaches by John C. Cremony 1850, For America To Live Europe Must Die - by Russell Means, Black Elk Speaks by John Neihardt, The Sacred Pipe by Joseph Epes Brown, The Paiutes of Pyramid Lake by Ruth Herman, Wisdom of the Elders by David Suzuki, I Will Fight No More Forever Chief Joseph, The Utes Must Go by Peter R. Decker, Red Twilight by Val FitzPatrick, 1491 Charles C. Mann, Pagans in the Promised Land by Steven Newcomb, Guns Germs and Steel by Jared Diamond, Jacob Hamblin His Life in His Own Words, Massacre at Bear River by Rod Miller, Founding of Fort Utah by Robert Carter, Shoshoni Frontier Bear River by Brigham Madsen, Thunder Over the OCHOCO by Gayle ONTKO, So Rugged and Mountainous by Will Bagley, The Shoshonis Sentinels of the Rockies Virginia Cole Trenholm and Maurine Carley, The Book of Destiny Carlos Barrios, Walkara Hawk of the Mountains Paul Baily, Wisdom of the Elders David Susuki and Peter Knudtson, Chief Pocatello by Madsen, Of Worthier Blood by Parker M. Nielson.
Also: Documents and treaties from the United States Department of the Interior, Timpanogos Nation, Ute Tribe, Commission of Indian Affairs Annual Report 1865, O.H. Irish, Powell, Department of the Interior, and the Bureau of Indian Affairs, The Utah State Government Archives, University of Utah Special Collections, Brigham Young University Special Collections, Salt Lake City Library, Private Journals Mormon Pioneers, and Personal Interviews of numerus descendents of early Utah Pioneers, and oral histories while living with members of various Native American Tribes throughout the western United States, Western Shoshone, Snake-Shoshone Timpanogos, Uinta Ute, Grandriver Ute, Uncompahgre, Yampa, Moache, Wiminuche, and Dine'. Interviews with Hopi, Pueblo, Apache, Arapaho, Lakota, Silets, Makaw, Southern Paiute, Northern Paiute, Yrok, Anishinaabe, Cherokee, Choctaw, the Mayan of San Pedro Guatemala.