Welcome to...
My Journey to Understand... Black Hawk's Mission of Peace
A History of The Black Hawk War of Utah & The Timpanogos Nation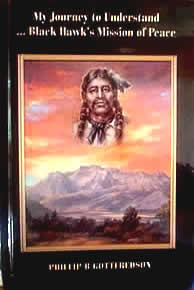 Author PHILLIP B GOTTFREDSON
"In the end, it isn't about the war....it's about the human condition."
Phillip B Gottfredson shares an intimate perspective of the Timpanogos peoples of Utah and the Black Hawk War of 1849 to 1873 in his debut Native American history book titled "My Journey to Understand ... Black Hawk's Mission of Peace" (published by Archway Publishing).
Some 70,000 Timpanogos Indians — the aboriginal people of Utah — died from violence, starvation, and disease after Mormon colonists stole their land and destroyed their culture over a 21-year timeframe according to the detailed account Gottfredson learned from the Native Americans. Because few people know anything about Timpanogos Indians, who they are, or what they believed in, the author seeks to educate readers about them.
"Antonga Black Hawk was an extraordinary human being who personally witnessed the worst of man's inhumanity to man, and himself dying from a gunshot wound traveled a hundred and eighty miles on horseback to make peace with the white man, and apologized for the pain and suffering he caused them, asking them to do the same and end the bloodshed. We don't see any white people doing this, so it took a greater man to do such a thing, and that's what gets left out of history," writes Gottfredson.

"Native American history is an integral part of this country's history," Gottfredson says. "After all is said and done, after the Black Hawk War and all the suffering it caused, I make this one conclusion: It isn't about the war. It isn't about religion. It isn't about owning land and having material wealth. It's not about power. In the end, it's about the human condition. There is no such thing as race. Race is man's invention to create divisions and separations, the building of walls and fences to segregate us from one another, to have power over each other. There is but one race, the human race. It's about humanity, human equality, aboriginal rights and a sovereign people. It's about there being one world, one prayer, and one heart. Having compassion toward all our relations."
"My Journey to Understand ... Black Hawk's Mission of Peace"

By Phillip B Gottfredson

Hardcover | 6 x 9 in | 320 pages | ISBN 9781480884519

Softcover | 6 x 9 in | 320 pages | ISBN 9781480884526

E-Book | 320 pages | ISBN 9781480884533

Available at Amazon and Barnes & Noble
About the Author

As a historian Phillip B Gottfredson has spent the past 20 years researching and writing about the Black Hawk War in Utah while living with various Indian tribes throughout North and South America. He was invited to participate in numerous sacred ceremonies and received council from many tribal elders and leaders, which is unusual among today's historians. Because Gottfredson is personally involved in Native American culture, his account brings an alternate perspective to a war that has historically been examined from the perspective of Mormon colonizers. For his advocacy for true history of the First Nations people of Utah, the Utah State Division of Indian Affairs awarded him the prestigious Indigenous Day Award. Join the author on his extraordinary spiritual journey into the world of the Native American culture.
Buy Now Online!
Archway Publishing from Simon and Schuster (Recommended)
Donate a copy to your favorite Library!

The Perfect gift for birthdays, holidays, or a special friend!

Cover Design:

Cover design and forensic reconstruction of Timpanogos Chief Antonga Black Hawk was created by artist Carol Pettit Harding of Pleasant Grove, Utah. Rising over twelve thousand feet above the valley floor, Mount Timpanogos is right in the heart of Utah. Here Timpanogos leader Chief Antonga Black Hawk was born and lived out his life. Spanish explores Dominguez and Escalante in 1776 named the mountain in honor of these noble people. "I felt such a powerful spiritual experience to get involved in this, it completely changed my life" says Carol.

5 Star Reviews!

In psychological terms, they say you cannot get mentally healthy until you admit the problem, and are willing to look at all your behavior honestly. This book is an honest look at how native peoples have been and still are treated by an encroaching group who believe they have a higher right to do whatever they want to do, regardless of the consequences in human pain and suffering. We have a hard time imagining that our human history is a checkered one. Mr. Gottfredson has done an amazing job of telling this story with passion and honesty. As you follow him through his journey of discovery, you will be captivated by his experiences. And if you are willing to be honest in your feelings and a real student of human history, you will be rewarded with a greater and more profound understanding of the path we would all do well to emulate on our way to psychological wholeness. (and also a real spiritual awakening) As many have said, this book should be a part of every American high school student's study of American history, for if we could be willing to acknowledge our whole history and see the truth, the truth will set us free. Bravo, Sir ! - barely ablemann Washington DC

I ordered the book and read it in two days. It is a must have. So well written and factual. I'm going to read it again, as soon as my husband is finished. Do yourself a favor and read it. - Karen P. Orem, Utah

This book was truly inspired! It was powerful, filled with emotions, truths and love. I appreciated the care the author took to give us the reader of the beauty of the Native American people. Thank you Phillip Gottfredson for writing this compilation of history and your inspired moments. This truly touched my soul. - Cynthia Johnson Spanish Fork, Utah